February 2020. Innocently unaware of what just a few weeks would bring, we spent our last weekend in Madrid as any visitor should: engorged, flush-faced and wide-eyed walking hours upon hours through the magical Parco del Retiro, Lavapies, La Latina, Reina de Sofia.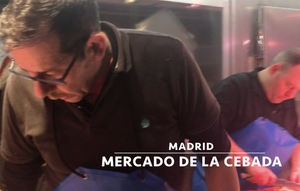 We discovered that noon on Sundays was a fantastic opportunity to visit the fishmongers of Mercado De La Cebada, a thriving market hall in La Latina neighborhood since 1875. Hawking fresh catch from their cases, the fishmongers themselves cook all manner of fish and seafood for clients to order, offering local wines and ciders picnic-style in the market halls, paper plates and plastic cups, no frills.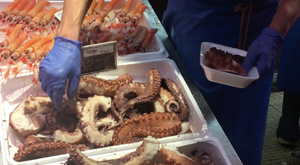 Seeing many locals devouring the pulpo a la gallega (Galician-style octopus) at El Mar Cantábrico, salivating, we decided to go for it. We took a number and shortly realized by chatting with a neighbor that you order por pata, or by the tentatcle, rather than by weight. We went with three tentacles, which was a massive portion - in retrospect I would order one pata per person!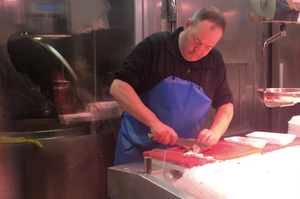 Once the desired amount of patas are selected, fishmongers slice the tender cooked octopus, place into a collander and plunge it into boiling salted water.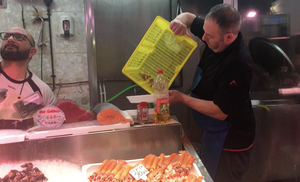 After a few moments, they remove the hot octopus from the water, drain and season it with Pimenton de La Vera, a sweet smoked paprika, course sea salt, and generous buttery Spanish olive oil.The result is silky, tender octopus with bright notes of sweet dried red chile, understated wood smoke, and a salty crunch, perfectly paired with dry cider, sparkling and crispy chilled wines. We went with an Albariño, a variety of white wine from Galicia. Botanical and citrusy, it was a perfect palate cleanser.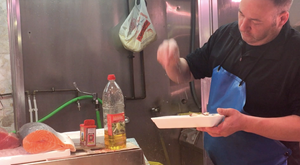 El Mar Cantabrico has been doing its thing since 1963. They're still open and surviving the world health crisis, living on in Madrid's beautiful Mercado de la Cebada. Their amazing, well-priced selection of pescado and mariscos and knowledgeable, handsome fishmongers are waiting for you.
---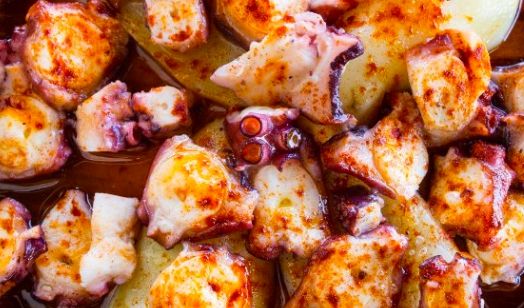 Pulpo a la Gallega from El Mar Cantabrico
28005 Madrid   
Spain