I love to try my hand at the magical sorcery known to this world as ceviche.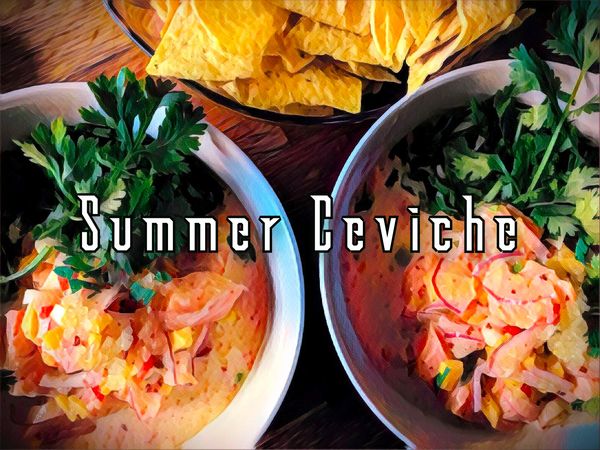 The technique of marinating fish and seafood in citrus, salt, onions, chiles and herbs lends itself to infinite variation. I am particularly proud of my Creamy Trout & Mango Ceviche with Red Jalapeño and Finger Limes, probably the most eccentric of my ceviche recipes to date, which I will share below!  
Years prior to my culinary school education I made some good attempts at ceviche, typically utilizing Pacific halibut, cod and shrimp. I always used ample lime, sometimes a touch of lemon, jalapeño or Serrano chiles, fresh cilantro, finely chopped tomatoes, minced garlic and diced onion. These were delicious experiments. I loved how the citrus would turn the translucent flesh bright white, and coax out the firmness and pink tones of a fresh prawn. I relished how the flavors of the alliums and chiles brought umami and heat to the marinade.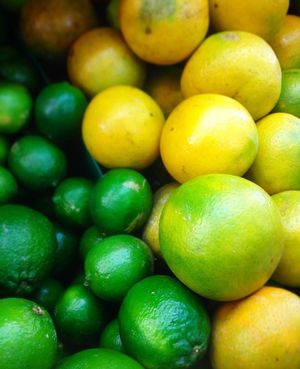 In the fall of 2008 I was completing my externship for culinary school in a tiny fishing village in Jalisco at a small beachside restaurant. Here I helped with many laborious and relatively mundane kitchen tasks that are bequeathed to lower level prep cooks. But whenever I could get my hands on processing the local fish and seafood, my heart soared. One day we received fifty or sixty kilos of freshly caught huachinango (red snapper) and it was my job to scale them all. The psychadelic pink, fuschia and silvery scales flew wildly around the deep kitchen sink for hours and thoroughly annointed every inch of my protective gear. After that day not only did I know viscerally how to scale a fish, but I had an immense appreciation for fishmongers and the patient hands that clean these creatures for nourishment.

After my externship ended I took a trip to the Yucatan Penninsula for the New Year celebration. A little bit of chance and dedicated wanderings far from tourist areas brought me to Parque De Las Palapas. It was here that I first observed a Mayan family preparing xni pec, a practically flourescent pink pickled red onion transformed by lime, salt and habanero peppers that I fell in love with and have recreated in my kitchen fairly regularly ever since. 
My other precious memory of this place was the ceviche I tried here at a small food stall aptly named "Yo ❤️ Ceviche." Like xni pec, the fresh fish was bathed with limes of the region that were smaller and sweeter and juicier, more like key limes or Persian limes that I had known. These magicians used red onion but also what looked like spring onions or scallions in their marinade. Most memorably they used a generous combination of fresh and dried hot chiles. I had never considered this combination. The fish and the leche de tigre was so flavorful and so spicy that I could barely see. Tears streamed down my face as I begged my partner to order another round.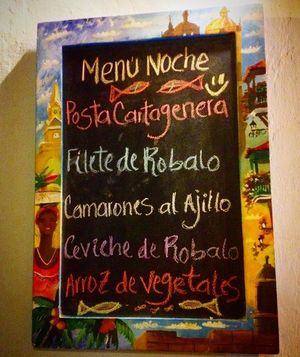 A few years later I would relive these joyful ceviche emotions in another context with the exquisite Peruvian ceviche of CVI.CHE 105 in Miami. Chef Juan Chipoco marinates his fresh fish in Chulucanas lime juice and julienned Arequipan onions direct from Peru, of a quality and flavor he insists cannot be rivaled. To my delight giant Peruvian white maize corn kernels and fragrant herbs added crunch and body to the tender marinated fish. Most mindblowing to me at the time, Chef weilded Ají Amarillo, rocoto peppers and even pisco blended with crema to make unbelievably delicious and creamy leches de tigre. Up to this point I had never considered cream in any of my recipes.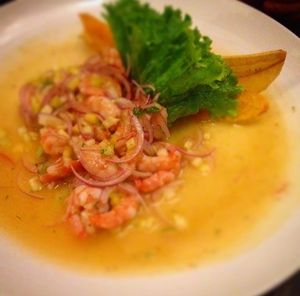 The search for incredible ceviches continued the following year on a month-long sojourn in Cartagena, Colombia. My partner's family welcomed us to their restaurant La Mulata, where Chef Jorge Gonzales Bustamante was featuring seasonal ceviches on his daily menu with robalo (sergeant fish) as well as fresh prawns with mango and crispy plantain chips, which we went back for several times. I loved the contrast of the tropical sweet and savory.
I tasted my first crab ceviche at El Pulpito, also in magical Cartagena. This featured a touch of cream, both sweet pepper and spicy chiles, fresh yellow corn, and both cilantro and baby dill.I had never tried using crab, and was floored by the use of herbs in this recipe. I'd never attempted to use trout for ceviche until this summer either, but that's just it. The fun for me is creatively combining ceviche's key components. In addition to the protein and chopped vegetables, fruits and herbs used, the citrus is particularly delicious to experiment with.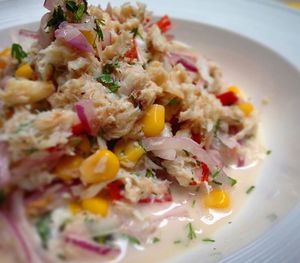 I found local citrus in Colombia to be incredibly various compared to our relatively limited range of lemons, limes, grapefruits and oranges in most California markets; there were dozens of kinds. Large green fruits that looked to me like gargantuan limes peeled back to reveal sweet orange flesh and juice. What looked like bright yellow Meyer lemons could be more sour and ruby colored inside. Shopping for fruits and vegetables in coastal Colombia and cooking with their local ingredients inspired me to use a wider variety of citrus, and combinations of citrus. I now find myself scouring farmers markets and Latino grocers for different varieties of these tasty tree fruits. Some of my favorite finds for ceviche and salsas have been pomelos, finger limes and the pink lemon, a beautiful striped variety with salmon-colored flesh.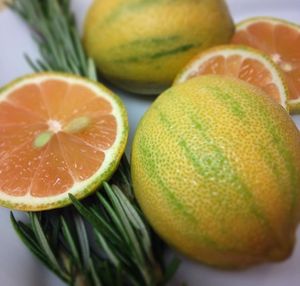 These days, especially on a sunny day, the craving for ceviche leads to a meditation on all of these delicious ingredient combinations that have been etched in my culinary memories. And so the search for a sustainable cut of fish begins.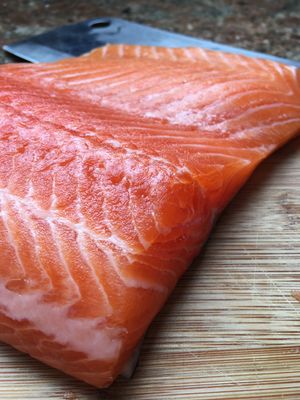 With a half a pound of fresh trout, a dozen citrus fruits, onions, garlic and chiles I was able to make the most amazing ceviche thusfar. Remember you can absolutely vary all of the ingredients here to make your own amazing version.
Creamy Trout & Mango Ceviche
with Red Jalapeño and Finger Limes
---
Ingredients: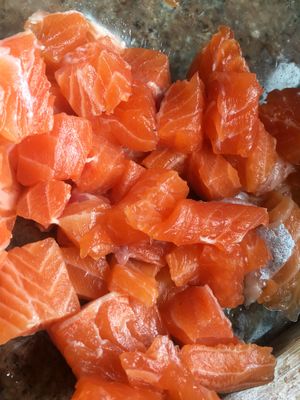 1/2 pound fillet of super fresh trout, skin removed, chopped into small bite-sized pieces

8 juicy limes

1 tart lemon

1 Valencia orange

2 tangerines

1 mango

1 green jalapeño

1 red jalapeño

1 whole large red onion sliced paper thin on a mandoline

1/2 cup of chopped scallions

2 cloves of garlic finely minced

1 teaspoon of dried Aleppo pepper flakes

2 teaspoons of Hawaiian red sea salt

Fresh cilantro to garnish

Australian finger limes to garnish

Yellow corn tortilla chips for service
Method:
Smother the fish with the marinade of citrus, mango, chiles, onion, scallions, garlic, salt and pepper flakes (everything but the garnish).  Cover the bowl and chill the contents in the refrigerator until the fish is no longer transluscent. This takes about 3 hours.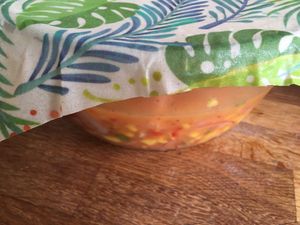 Once the fish is sufficiently "cooked," I recommend that you try a bit of the liquid and a piece of the fish to determine if you would like to add salt to taste. To finish and serve this dish, I used a slotted spoon to gently remove the bulk of the fish, mango and vegetables from the marinade. I divided the fish into two bowls as an entree, but you could do four or six smaller serving bowls as an appetizer. 
To this precious remaining liquid I whisked in a couple tablespoons of my homemade crème fraîche to add creaminess and depth. You can also use store bought crème fraîche of course, or any kind of crema or sour cream, even heavy whipping cream, buttermilk or half & half. This step is optional but highly recommended.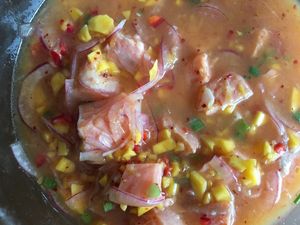 The day I made this recipe I happened to have Australian Finger Limes on hand, and it was my first time using them in a ceviche. If you've never tried these, I do hope you come across them somewhere! When sliced in half and squeezed, caviar-sized pearls erupt from the fruit bearing a wonderful burst of tangy, slightly sour flavor.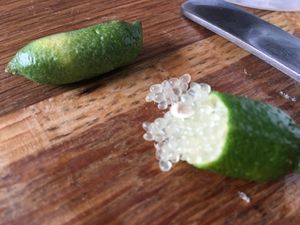 So to finish the ceviche, I poured my creamy leche de tigre over the fish, garnished each bowl with fresh chopped cilantro and topped it all off with these glistening citrusy pearls.
---
"Context and memory play powerful roles in all the truly great meals in one's life."   
― Anthony Bourdain